About David Lawrence Jewellers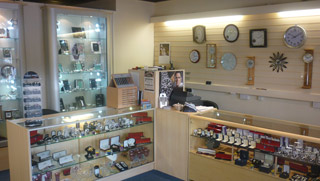 David Lawrence Royton Ltd, the Gold and Silversmiths for Royton and Oldham is situated in the centre of Royton, at 1 Market Square. (Telephone 0161 620 3777) David Lawrence is one of the finest retailers in Royton. The business is a symbol of excellence and the epitome of traditional retail.
As Roytons premier Jeweller, David Lawrence carries an extensive collection of time pieces including Swiss watches and clocks, as well as jewellery, crystal, quality gifts and porcelain, and our pleasure is in helping you to select the ideal present. We look forward to welcoming you to the showroom and helping you to select that special gift.
We have a excellent selection of the famous Citizen eco-drive watches all carry a 5 year guarantee.